David Woodley, Sempai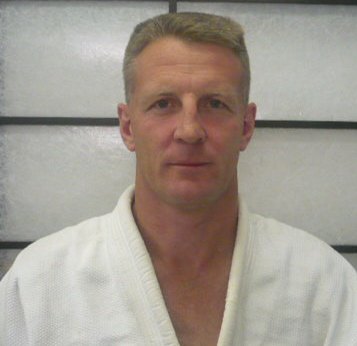 Age:
46

Current Dojo:
Motueka Recreation Centre, Motueka
Years training:
in Fuji Ryu Goshin Do Jiu Jitsu, 1988 - 1992
Year Started SKJJ
: 2005
Current Grade SKJJ
: 1st Dan, 4th December 2010
Main Instructors:
James Salter, Kancho Sakura Kan Jiu Jitsu
Alistair Thompson, Shihan Sakura Kan Jiu Jitsu
Favorite Technique:
Any technique that quickly deals with a threat using the least force necessary
Most Memorable Martial Arts Moment
: Disarming an attacker armed with a knife
Other Magic Moments
:
Meeting and training with highly skilled Jiu Jitsu exponents
Opening my own Dojo in Motueka in 2005
Watching my students be graded
Obtaining every one of my grades as they are a real challenge to obtain. As such they have meaning unlike other systems that just give them away.
Achieving Shodan
Favorite Saying:
"That which you walk past is that which you accept"
Current employment:
Police Detective New Zealand Police (full-time 8 years)
Past employment:

General Duties Police Officer New Zealand Police (full-time 7 years)
School teacher (full-time 8 years)
Doorman (part-time 5 years)